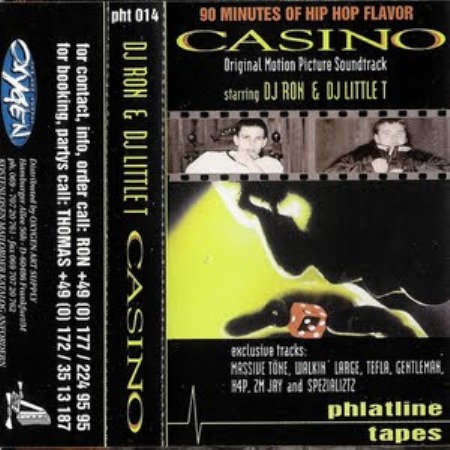 Pure Mixtape-Dopeness von zweien, die sich auskennen: DJ Ron und DJ Little T von der Chemnitzer Hip-Hop-Institution Phlatline tragen die volle Verantwortung für Casino, ein kultiges Konzept-Tape von 1998, angelehnt an das gleichnamige cineastische Meisterwerk mit Robert De Niro und Joe Pesci. Exclusives von Tefla, ZM Jay, Massive Töne, den Spezializtz und Walking Large plus jede Menge ordentlich scheppernder Tracks und Remixes von Cormega, Lost Boyz, Harleckinz, IAM und vielen weiteren machen dieses Mixtape zum Pflichttape.
[spoiler title="Tracklist"]Ron Side
DJ RON "money,power & respect (intro)"
ICE CUBE / DMX / SONJA BLADE "we be clubbin' (rmx)"
CAM'RON "357 (magnum p.i.)"
NOREAGA / McGRUFF " n.o.r.e." (dj ron rmx)
HARLECKINZ / KINZMANIA / KC DA ROOKIE / MYSTIC DAN "kinetic"
MEGA interlude
CORMEGA "testament" (new version)
DEFARI "never lose touch"
DV ALIAS KHRIST / MOBB DEEP "building"
CASINO interlude
FAT JOE / NOREAGA "misery needs company" (dj ron rmx)
A+ / LOST BOYS / CANIBUS "boys 2 men"
BLACKMOON / HELTAH SKELTAH "warzone"
WALKIN'LARGE "can i hit it ?" ***exclusive***
CANIBUS / YOUSSOU N'DOUR / WYCLEF "how come"
SPEZIALIZTZ "faker" ***exclusive***
MASSIVE TÖNE "unterschied" ***exclusive***
Little T Side
GENTLEMAN intro ***exclusive***
IAM "petit frere"
X-EXCUTIONERS interlude
DILATED PEOPLES "work the angels"
CHANNEL LIVE / DAS EFX / MOBB DEEP "live 4 hip hop" (lil t. rmx)
SHABAZZ THE DICIPLE "the big daddy anthem"
GANG STARR / M.O.P. "the rep grows bigga / b.i. vs. friendship"
MASSIVE B. ALLSTARS / COCOA B.'s / ROUNDHEAD / BLAHZEY BLAHZEY "weed for life"
TEFLA "doppel R geschwader" ***exclusive***
ZM JAY "vorzüglich" ***exclusive***
CORMEGA "one love"
LOOTPACK / ALKAHOLIKS / DEFARI "likwit fusion"
COCOA BROVAZ / RAEKWON "black trump"
H4P "in it" ***exclusive***
BIG PUNISHER / MISS JONES "punish me"
NAS "everyday thing"
OUTRO[/spoiler]
Im Inlay des Original-Tapes wurde übrigens die Werbetrommel gerührt, nämlich für das erste Splash! Festival im Jahr 1998, das damals noch als eine Art Jam mit einer Handvoll Artists konzipiert war. Aber hey, dafür wurden an der Abendkasse auch nur 26 Märker fällig.