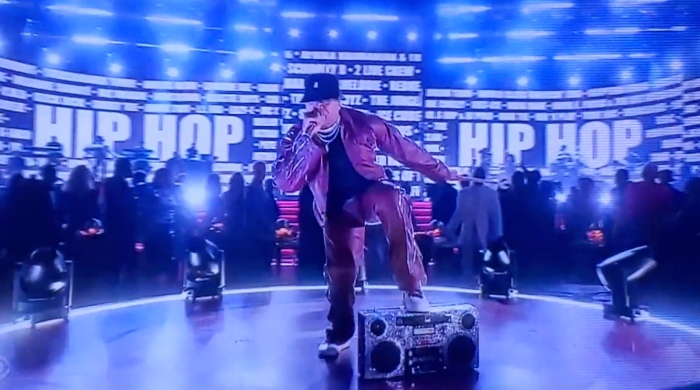 Die Grammys sind wir relativ wurscht, aber die Live-Performance, die sich dieses Jahr dort abspielte, war grandios: Die als 50 Year Anniversary Of Hip Hop von Questlove kuratierte und von Black Thought angekündigte Performance entpuppte sich als viertelstündiger Ritt durch alle Rap-Epochen. Es blieb kaum Zeit zum Luftholen, schon stand die nächste Legende auf der Stage: Grandmaster Flash. Melle Mel. LL Cool J. Run DMC. Queen Latifah. Public Enemy. Salt-N-Pepa. Jazzy Jeff. Method Man. Rakim. Big Boi. The Lox. Und viele, viele mehr. Meine Highlights: Scarface betritt die Bühne und lässt seinen Part aus My Mind's Playing Tricks On Me nahtlos in New Jack Hustler von Ice-T übergehen. Und natürlich Busta Rhymes mit Partner Spliff Star und seinem völlig wahnsinnigen Reime-Maschinengewehr. Was für ein Abend!
Klar, man hätte noch 20 Leute mehr dazu holen können. Aber es geht nicht darum, wer fehlt, sondern wer dabei war. Egal, ob sie heute noch Musik machen, ins Schauspielfach gewechselt sind oder Talkshows moderieren – hier und auf dieser Bühne trafen sie noch einmal für Rap, für Hip Hop und für die Kultur zusammen, von 1973 bis in die Unendlichkeit.
Rechteinhaber scheinen auf der Jagd nach dem Clip zu sein… hier ist ein Tweet, in dem das Video der kompletten Performance (noch) bestaunt werden kann.
50-year anniversary of hip-hop performance at the #GRAMMYs by some of the greats including RunDMC, LL Cool J, Salt N Peppa, Ice T, Queen Latifah, Wu-Tang, Big Boi, Busta Rhymes, Missy Elliott, Nelly, Too Short, GloRilla, The Roots, and more… pic.twitter.com/HmGB0bvGZX

— Leon Carrington (@LeonCarrington) February 6, 2023