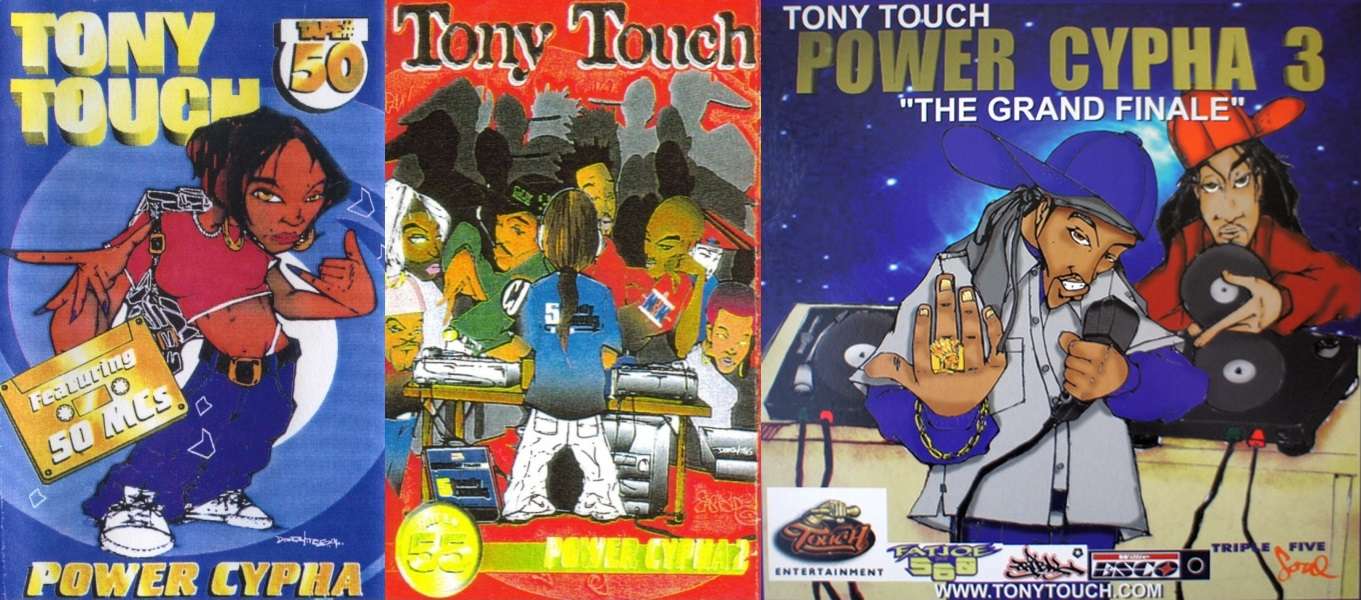 Direkt nach den 50 MC's-Tapes vom Zulu Soundsystem ist hier jetzt die Tape-Reihe, die dem Projekt von Torch und Bou als Vorbild gedient haben dürfte: Der legendäre Power Cypha (1996), den Tony Touch aka Tony Toca für sein 50. Mixtape veranstaltete, Power Cypha II (1997) für das Tape Numero 55 und Power Cypha III – The Grand Finale für die #60. Die Kassetten erregten damals mächtig Aufsehen, so spielte Funkmaster Flex beispielsweise die 12-minütige Freestyle-Session der Boot Camp Click vom ersten Tape vollständig in seiner Radioshow. Die meisten Aufnahmen entstanden in den D&D-Studios, und von der Ostküste ist wirklich fast alles dabei, was damals Rang und Namen hatte – aber auch der Westen kommt dank der Likwit Crew, Cypress Hill, Saafir, Kurupt und Ras Kass nicht zu kurz. Für mich ist Power Cypha eine der geilsten Mixtape-Serien aller Zeiten.
Tape #50 – Power Cypha I
Mit Flipmode Squad, Bootcamp Click, Funkdoobiest, Das EFX, Wu-Tang Clan & Killarmy, Channel Live, Sunz Of Man, Gang Starr, Next Level Records, Onyx, Furious Five, Leaders Of The New School, Alkaholiks, Cold Crush Brothers, Group Home & Brainsick Mob… Hier die Liste mit allen Beteiligten!
Tape #55 – Power Cypha II
Mit Traged Khadafi, Big Pun, Big L, Capone-N-Noreaga, Lost Boyz, D.I.T.C., Powerule, Artifacts, Terror Squad, The Bounce Squad, Hit Squad, Def Squad, The Roots, Next Level, Shadez Of Brooklyn, Boot Camp Click… Hier die Liste mit allen Beteiligten!
Tape #60 – Power Cypha III – The Grand Finale
Mit Rah DIgga, AZ, M.O.P., Eminem, Black Starr, Cormega, MC Lyte, Sauce Money, Large Pro, Raekwon, B-Real, Edo G, LA The Darkman, Thirstin Howl III., Craig Mack, Saafir, Ras Kass, Defari, Blahzay Blahzay… Hier die Liste mit allen Beteiligten!