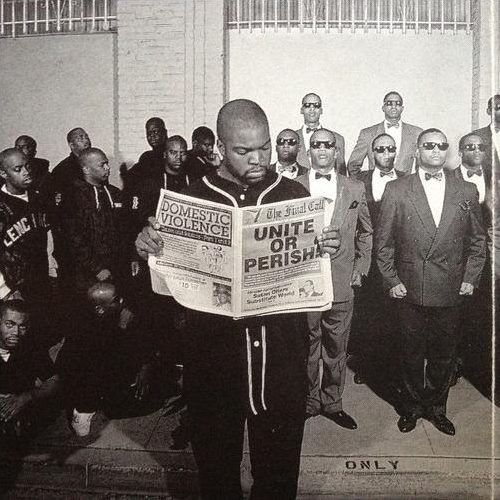 Ice Cube wird 2014 nicht nur seinen 45. Geburtstag begehen, sondern im Mai auch sein 10. Studioalbum mit dem Titel Everythang's Corrupt auf den Markt bringen. Wer eine kleine Erinnerung benötigt, weshalb der Mann zu den einflussreichsten Rappern aller Zeiten zählt, dem hilft DJ M-Bangz auf die Sprünge: Mit seinem äußerst empfehlenswerten Mixtape Rollin' With The Lench Mob erinnert er uns an die musikalische Hochphase von Ice Cube und Alben wie Amerikkkas Most Wanted oder Death Certificate. Auch die Posse aus South Central kommt zu Wort, so hört man neben dem Meister persönlich auch seinen Cousin Kam, Homegirl Yo-Yo, K-Dee, Don Jagwarr und natürlich den Lench Mob. Insgesamt gibt es satte 94 Minuten mit 48 Klassikern aus der mit Palmen gesäumten Betonhölle von Los Angeles.
[spoiler title="Tracklist ausklappen"]01. Ice Cube – Intro
02. Ice Cube – Wrong Nigga To Fuck Wit
03. Ice Cube – Rollin Wit Da Lench Mob
04. Yo-Yo – The Bonnie and Clyde Theme (ft. Ice Cube)
05. Yo-Yo – Bonnie and Clyde II (ft. Ice Cube)
06. Kam – Nutn Nice
07. Yo-Yo – I Got Played
08. Yo-Yo – Mama Dont Take No Mess
09. Ice Cube – Jackin For Beats
10. Ice Cube – Check Yo Self (Remix)
11. Da Lench Mob – Aint Got No Class
12. Da Lench Mob – Who Ya Gonna Shoot Wit That
13. Ice Cube – No Vaseline
14. Ice Cube – AmeriKKKas Most Wanted
15. Kam – Givin It Up
16. Ice Cube – Dont Trust Em
17. Ice Cube – A Gangstas Fairytale
18. Kam – Yall Dont Hear Me Dough
19. Da Lench Mob – Going Bananas
20. Ice Cube – Bop Gun
21. Ice Cube – It Was A Good Day
22. Threat – Lettin Niggas Know
23. K-Dee – Hittin Corners
24. K-Dee – Aint Nothin Poppin (ft. Snow)
25. Don Jagwarr – R.E.S.P.E.C.T.
26. Ice Cube – When I Get To Heaven
27. Kam – Still Got Love 4 Um
28. Dazzie Dee – Aint No Bustas This Way (ft Ice Cube & K-Dee)
29. Kam – Pull Ya Hoe Card
30. Kam – Down Fa Mine (Ft. Mc Ren & Dresta)
31. Yo-Yo – How Can I Be Down
32. Kam – Who Ridin
33. Da Lench Mob – Guerillas Aint Gangstas
34. Da Lench Mob – Guerillas In Tha Mist
35. Yo-Yo – Letter To The Pen
36. Ice Cube – 2 N The Morning
37. Ice Cube – Ghetto Bird
38. Yo-Yo – Ibwin Wit My Crewin
39. Ice Cube – Friday
40. Ice Cube – Higher
41. Ice Cube – Cave Bitch
42. Ice Cube – Really Doe
43. Don Jagwarr -Skank Wit U (ft. 2pac)
44. Kam – Keep Tha Peace
45. Yo-Yo – You Cant Play With My Yo-Yo
46. Da Lench Mob – Chocolate City
47. Yo-Yo – Thank You, Boo
48. Ice Cube – What Can I Do?[/spoiler]
---