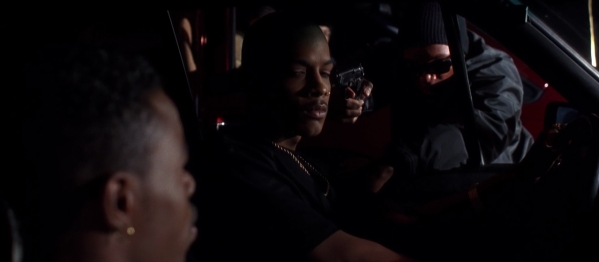 "Hey / you look like that nxxxa that played in Menace"
Diese Line rappt Saafir 1994… und ja, er ist isses tatsächlich: Caines Cousin Harold, Ihr wisst schon, der mit dem BMW, der Bude und der fetten Brieftasche. Als Saafir hingegen ist er seit 1991 einer der Geheimtipps von der Westcoast, Mitglied der Hobo Junction Crew und Veteran diverser Rap-Battles. Das Debüt-Album Boxcar Sessions brachte als erste Auskopplung Light Sleeper hervor, in dem auch gleich das beachtliche lyrische Talent unter Beweis gestellt wird:
Bis 2006 veröffentlichte der Mann mit dem Nasenring und dem unverwechselbaren Flow drei weitere Alben sowie mehrere Maxis, EPs und Promos. Sein letztes Album Good Game: The Transition (2006) hat einige sehr gute Tracks (Favorit: Get Busy), hört mal rein wenn Ihr die Chance habt. Zum Abschluss gibt's nochmal was vom ersten Longplayer, nämlich das Lied mit der Menace-Line: Just Riden.