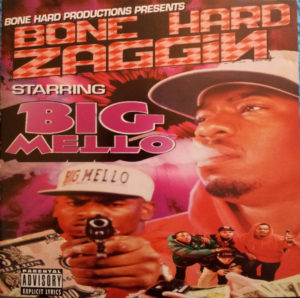 Bone Hard Productions starring Big Mello – Bone Hard Zaggin (1992)
Ich hatte noch nie etwas von Big Mello gehört, als ich dieses Album kaufte. Um ehrlich zu sein: der Hauptgrund für diesen Neuerwerb war wahrscheinlich das Cover, das aussah wie das Plakat zu einem Actionkracher aus der Videothek. Das Rap-A-Lot-Records-Logo auf der Rückseite tat sein übriges, und so wanderte die CD in mein Sammlung. Zuhause angekommen wurde ich nicht enttäuscht: Frauen, Party, Autos und jede Menge Waffen. Das Artwork hatte seine Versprechen gehalten.
"Mac's Drive 'Lac's" war wohl mit die entspannteste Hymne, die ich bis zu diesem Tage im Jahr 1992 gehört hatte. Tagelang sang ich "MAC'S DRIVE LAYAYACS" vor mich hin. "Symptoms of a Crook" benutzte das selbe Mandrill-Sample wie eines meiner absoluten Lieblingslieder, nämlich "By the Time I get to Arizona" von Public Enemy. Der Track wanderte also gezwungenermaßen auch umgehend auf meine Favoritenliste. Auf "I Don't Trust'Em" zeigte unter anderem Big Mellos DJ Harvee Luv den Hoes, wo der verbale Hammer hängt, indem er proklamierte "I don't trust a funky bitch as far as I can throw her monkey ass", die Hook war ebenfalls top, und da zu guter letzt die Convicts und Icey Hott ein paar Gastreime beisteuerten, kam auch dieses Lied auf die Fave-Liste. Die selben Gäste wirkten übrigens auch beim letzten Track "From the Clarke" mit, der auch sofort ins Ohr geht.
Ein weiteres sehr gutes Album aus den frühen 90ern, von einem weiteren Rapper der leider zu früh starb. R.I.P.