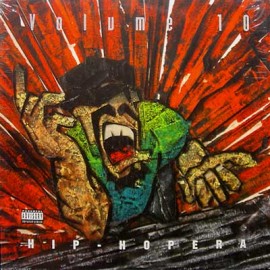 Volume 10 – Hip-Hopera
Jahr: 1994
"Hip Hopera", veröffentlicht über Immortal Records/RCA, ist definitiv eines der am meisten unterschätzten Alben von der Westküste. Von Volume 10 hörte ich das erste mal auf dem Freestyle Fellowship-Track "Heavyweights" vom "Innercity Griots"-Album, außerdem hatte ich von dem Untergrund-Hit "Pistol Grip Pump" gehört, so dass ich mir die CD zulegte. Eine hervorragende Investition, wie sich herausstellte.
Volume 10 verdiente sich seine Sporen beim Open Mic Projekt "Project Blowed". Neben dem Stammpublikum, zu dem Untergrund-Größen wie Aceyalone, Myka Nine, Jurassic 5, Abstract Rude und Ellay Khule gehörten, war zum Beispiel auch Kurupt ein häufiger Gast.
Wenn überhaupt, dann kann die Mischung dieser Namen als Wegbeschreibung dienen, auf was für vielseitigen Pfaden Volume 10 sich bewegt: skillgeladene Tracks und Freestyles (siehe Track 3, "A Real Freestyle"), harte Texte, Emotion, natürlich auch Gangsta… mit Schubladen kommt man hier also nicht besonders weit, dafür ist auf dem Album zu viel los. Das bereits angesprochene "Pistol Grip Pump" ist typisch-pumpender LA Gangsta Rap vom feinsten. "Where's The Sniper" oder "Harderthanally'all" muss man hingegen hören – oder besser gesagt fühlen. Der MC baut hier durch Style- und Stimm(ungs)schwankungen eine atmosphärisch dichte Kulisse auf (heutzutage schafft sowas ohne peinlich zu wirken nur jemand vom Kaliber Ghostface), wenn er beispielsweise auf  "Harderthanally'all" den Verlust seines Bruders betrauert. Das direkt darauf folgende "Sunbeams" verbreitet dann wieder eine komplett andere Stimmung, wie der Name schon vermuten lässt. Ideales Lied für den Sommer übrigens.
Der Titeltrack lässt das Herz eines jeden Rap-Fans höher schlagen, ein satter Beat, bei dem das Kopfnicken automatisch einsetzt, während Volume 10 völlig ausrastet.
Bleibt nicht viel zu sagen, außer: holt Euch das Album, eine wahre Goldmine, die lange zu Unrecht übersehen wurde.
Hier das Video zu Pistol Grip Pump, laut Chuck D's Aussage bei Wordcup übrigens einer seiner Lieblingstracks.
Tracklist
1.A'Cappella Stylesondeck
2.Where's The Sniper?
3.A Real Freestyle
4.Pistolgrip-Pump
5.Mom & Deb
6.Sho Is Hype
7.Hip-Hopera
8.Interlude-Tops Wall
9.First Born
10.Knockoutchaskull
11.Home Alone
12.Harderthenallya'll
13.Sunbeams
14.Tops Toe
15.Flow Wood
16.Tricks-N-Hoes
17.What's Up To…